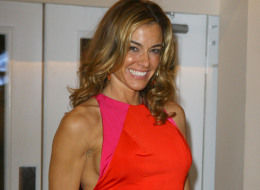 A model who appears on Bravo's "The Real Housewives of New York City" is facing charges that she punched an ex-boyfriend and left a bloody gash on his face.


Kelly Killoren Bensimon, 40, was arrested in Manhattan last week on a misdemeanor assault charge after her 30-year-old ex-boyfriend Nicholas Stefanov told police she assaulted him.


Killoren Bensimon surrendered Thursday, two days after the alleged assault. A misdemeanor complaint says she hit Stefanov with her fist in her apartment.


She was released without bail after her arraignment on a third-degree assault charge.


Her lawyer, Stephen Turano, didn't return a call for comment, but the Daily News quoted him as saying she denies the allegations. He called Stefanov "a jilted lover."


Stefanov told the Daily News that he still loves Killoren Bensimon. He said the pressure of being on the hit reality TV show caused her to snap and punch him during an argument.


He said she "had the courtesy to take her (engagement) ring off first," the News reported, adding she also returned it to him that night.